PCA and ICA for introduction to machine learning
2022-01-26 23:29:42 【Vegetable sheep】
This is my participation 8 The fourth of the yuegengwen challenge 12 God , Check out the activity details :8 Yuegengwen challenge
This article is the sixth in the notes series of Wu Enda's machine learning course , Mainly about the commonly used algorithms for data dimensionality reduction -PCA Principal component analysis algorithm , At the same time, extend another algorithm -ICA Independent component analysis .
Principal component analysis PCA
Before learning principal component analysis , Let's first understand what dimensionality reduction is .
What is dimension reduction
Refer to the definition of watermelon book , Dimension reduction That is, the original high-dimensional attribute space is transformed into a low-dimensional subspace through some mathematical transformation . In this subspace, the sample density is greatly increased , Distance calculation will also become easier .
In fact, dimensionality reduction is generally from high-dimensional projection to low-dimensional projection .
Such as below , about 3 D data , drop to 2 Dimension is to change the data from the original 3 Projection of dimensional space to 2 Dimensional plane , This enables dimensionality reduction .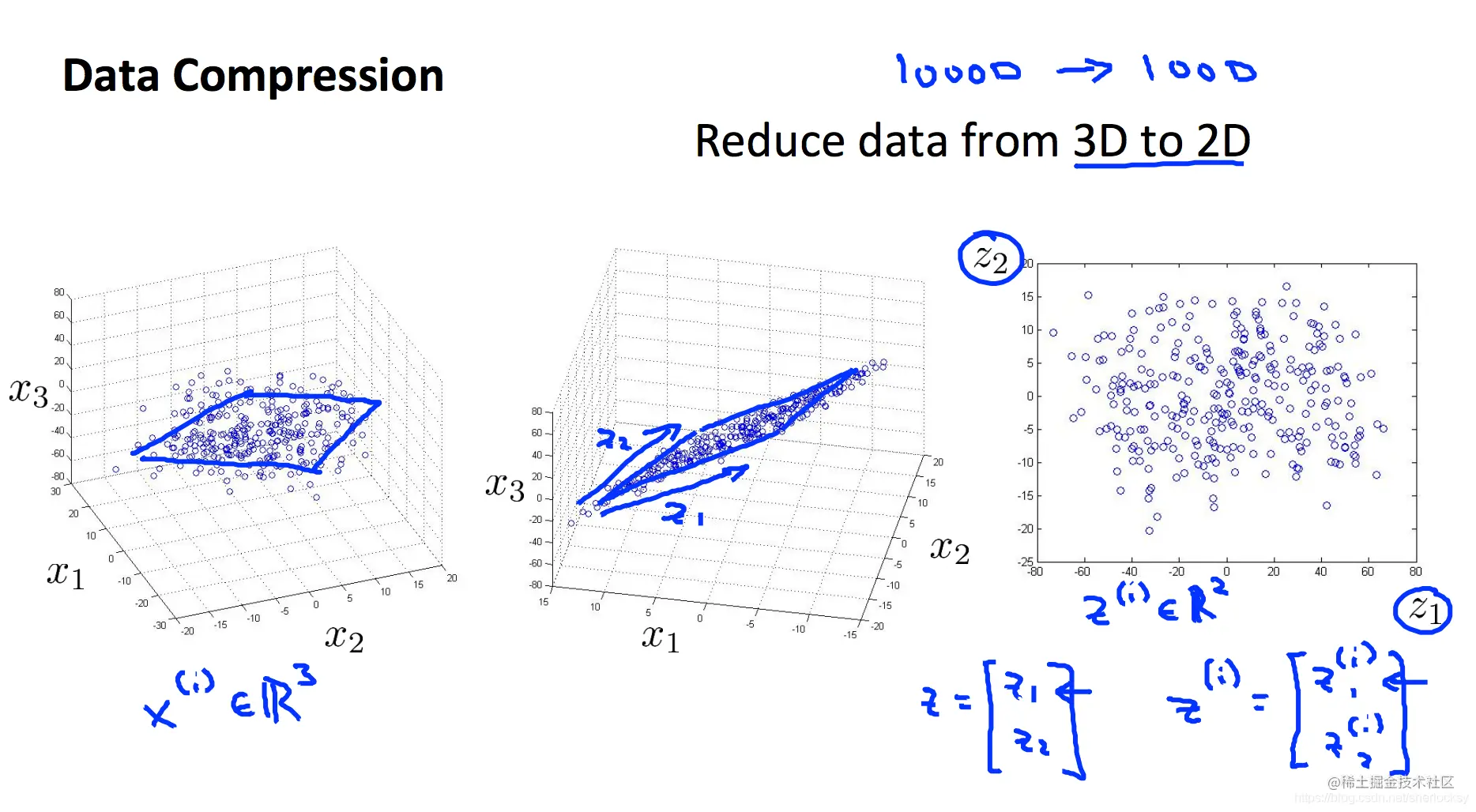 PCA (Principal Component Analysis)
Principal component analysis is the most common dimensionality reduction algorithm .PCA Can extract main components from redundant features , Without much loss of model quality , Improved model training speed .
Projection error (Projection Error):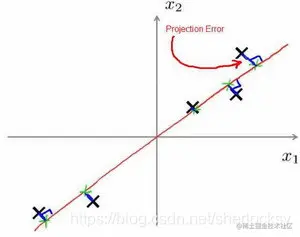 The projection error is : Project the data onto a vector passing through the origin ( The direction vector ), The length of the perpendicular line between the eigenvector and the direction vector .
PCA The goal is , We want to find a direction vector (Vector direction), Make the mean square error of this projection error as small as possible .
Obviously, this is an example of reducing to one dimension . that PCA The complete description of is :
Want to n Dimensional data reduced to k dimension , The goal is to find such a set of vectors u1​,u2​,u3​,...,uk​ , The total projection error of all data projected on this set of vectors is minimized . In fact, this set of vectors should be orthogonal in the original space . And this k The new orthogonal feature of dimension is also called principal component , It's in the original n Based on the characteristics of dimension, we reconstruct k Whitman's sign .
Algorithm flow
Mean normalization .

Calculate the covariance matrix :

Σ=m1​i=1∑n​(x(i))(x(i))T=m1​XTX

adopt Singular value decomposition Calculate the covariance matrix Σ Of Eigenvector :

(U,S,VT)=SVD(Σ)

from U Before you choose k Vector , To obtain a n×k The matrix of dimensions , use Ureduce​ Express . k We want to take the data from n Dimension reduction k dimension .

Calculate the new eigenvector z(i):

z(i)=UreduceT​∗x(i)
obviously , The end result is naturally k×1 dimension .
in general , Want to get the principal component , First calculate the covariance matrix of the data matrix , Then the eigenvector of covariance matrix is obtained by singular value decomposition , Then select the one with the largest eigenvalue, that is, the one with the largest variance k A matrix of eigenvectors .
To sum up ,PCA As a dimension reduction method of unsupervised learning , It just needs eigenvalue decomposition , You can compress the data , Denoise . So it's widely used in real scenes .
Independent component analysis ICA
above PCA It's a process of information extraction , Used to reduce the dimension of original data , And the next mentioned Independent component analysis namely ICA(Independent Component Analysis), It is a process of information disambiguation .
Problem introduction
ICA The premise is that the observed variable is a linear combination of several statistically independent components .
Let's start with the classic cocktail party (ocktail party problem) To discuss . This is the problem : There is... In a room n Someone is driving party, They can talk at the same time . In different corners of the room n Sound receivers , Each receiver can simultaneously collect n Overlapping sounds of personal voices . The distance between each receiver and each person is different , Therefore, the overlap of the sound received by each receiver is also different .party After the end , We get m A sound sample , Each sample is at a specific time i, from n A set of sound data collected by a receiver , How to start from this m A sample set is separated n Each speaker's own voice ?
Let's take a closer look at the problem description , use s To represent the sound signal source emitted by everyone at all times , It's a n×m Matrix , Each line represents a person m A sequence of sound signals at a time , common n That's ok , namely n personal .
x Is sampled at every moment n A linear combination of personal sound data . It's also a n×m Matrix . That is to say m A moment , Then a total of m Group samples , And each sample is n Dimensional . The superscript here i It means a certain moment , xi It's a component , It stands for i Everyone who receives it all the time n A linear combination of sound signals .
So we have the following model :
among , A Is an unknown mixed matrix , obviously A yes n×n Dimensional , And must be full rank .
Now the situation is A、s It is unknown. , x It is known. , We need to find a way x To launch s and A, This process is also called blind signal separation . That sounds a little amazing, Let's take a slow look at .
Algorithm
Without losing generality , We can assume that both the mixed variable and the independent component have a zero mean ; If the raw data is not zero-mean, We can observe variables x Standardization , Make the model zero mean model .
First , Let's make a change , Make W=A−1, that s(i)=A−1x(i)=Wx(i), W It can also be expressed as [w1T​,w2T​,...,wnT​]T, So for each source signal component :
then , Let's assume that everyone's voice signal sj​ It's independent , And there is a probability density ps​(sj​), So at a given moment i The joint probability density of the source signal is :
With p(s), We want to get the probability of sampling the signal , How do you get it ?
Let's first recall the knowledge of probability theory , We know that the probability density can be derived from the cumulative distribution function , Let's find the cumulative distribution function first :
Then find a derivative :
So there is :
Based on maximum likelihood estimation
Likelihood function :
Given a training sample x(i)=(x(1),x(2),...,x(m) , Find the log likelihood :
ICA Classical assumptions and uncertainties
Classic hypothesis
1. The components are independent of each other
This is a ICA One of the most basic and important principles of , It is very interesting that once this assumption is given , We can solve this model in a certain way . The explanation for this is , If any sequence of random variables (x1,x2,…,xn) They are statistically independent of each other , Then this means that we can't get random variables from the rest of the variables xj Any information .
2.ICA A very strong assumption : Independent components obey non Gaussian distribution .
This is because , If the source signal is Gaussian , That is, the independent components are Gaussian , Then their joint probability distribution will be uniform , The density is completely symmetrical , Take the two-dimensional Gaussian distribution in the figure below as an example . You can see , Gaussian variable (x1​,x2​) The distribution of any orthogonal transformation of has the same as (x1​,x2​) Exactly the same distribution . Because random variables with Gaussian distribution have high-order cumulants of 0 Characteristics of , therefore ICA After decomposition A There may be an infinite number of .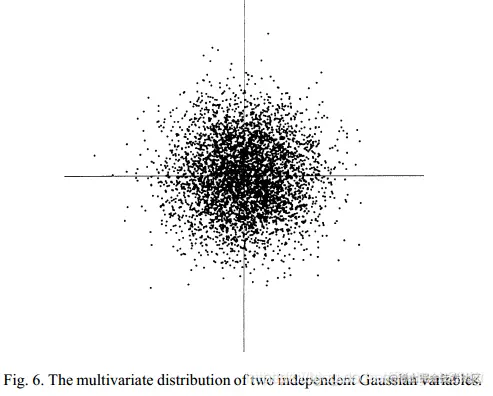 If the source signal is non Gaussian , that ICA The decomposition is unique . That's why one Generally, in standard independent component analysis, at most one component is allowed to obey Gaussian distribution .
3. Suppose the mixing matrix A It's the square
This is obvious , It's to make A reversible , Easy to calculate .
uncertainty
Having the same statistical characteristics x It may come from two different systems :
It can also be understood that the sampled signal and noise signal are not identifiable nonidentifiable. The above formula shows that , After a linear transformation , Mixed matrix A and s It's not the only one , So we can't uniquely determine the original signal .
ICA Uncertain factors
The variance of independent components cannot be determined
The order of independent components cannot be determined
Summary
Whether it's PCA still ICA, You don't need to make specific assumptions about the distribution of the source signal .
If the observed signal is Gaussian , Then the source signal is also Gaussian , At this time PCA and ICA It is equivalent. .
majority ICA Our algorithm needs data preprocessing : First use PCA obtain y, And then y Standardization of each component of ( That is, divide each component by its own standard deviation ) obtain z. After pretreatment z Satisfy the following properties :
z The components of are not related ;
z The variance of each component of is 1.
copyright notice
author[Vegetable sheep],Please bring the original link to reprint, thank you.
https://en.cdmana.com/2022/01/202201262329361469.html